It you ever thought that it's impossible to integrate a complete amp in a stompbox. Well Morley did it in the late 70s: Morley BPA 25/50 Bigfoot. An amplifier with a power of 40 watts.
On the left side you will find the volume, treble and bass knob.
The foot switch is the master volume that responds fairly accurately.
Left of the footswitch you find the treble booster. Right is the bass booster built.
You plug on the right side of your guitar. You can also find the output where you speaker (cabinet) on can aanlsuiten directly. Furthermore, the pedal also an output to plug. Directly into a mixer
In the past, I even have my headphones connected to it.
If the amplifier is too warm for a longer period of time, then there will be a light bulb as a warning.
A wonderful piece of nostalgia, I've found after years of searching again back.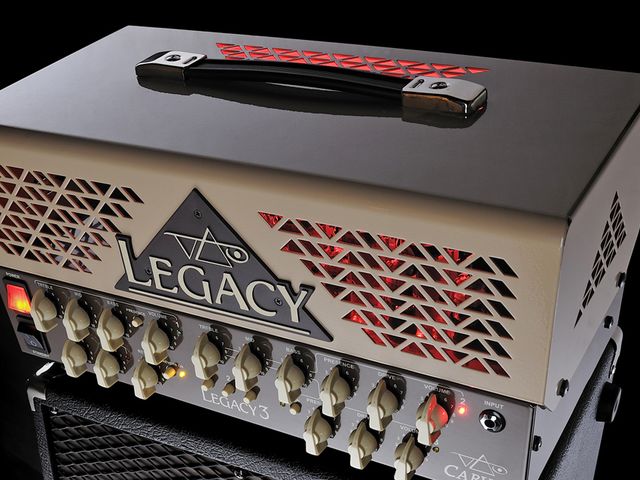 Compared with the firm's standing in the US, Carvin has a fairly low profile here in the UK and players are in danger of missing out on some very tidy guitars and amps.
However, such is the furore that surrounds any release from the House of Vai, be it musical or equipment in nature, there's little chance of this new Carvin Legacy 3 passing anyone by.
"Clean channel three is gorgeous, mixing a Fender-style chime and brightness with a fatter, juicier low-end."
Vai himself outlines the development of the Legacy range as a whole on page 128, sofor now we'll point out the salient facts. This is a three-channel, all-valve affair that mixes genuine portability – it's reassuringly weighty, but easily carried in one hand – with a choice of output levels for live use as well as in the studio.
The amp can run at 100, 50 or 15 watts via a three-way slider switch on the rear panel, and even though the power section out of the box is based around EL34 valves, you can also fit 6L6s and bias accordingly with yet another switch.
Channels one and two are exactly the same – both technically and in use – as those found on the original Legacy. Channels two and three share a three-way EQ and augment the tone tailoring options with individual presence controls. Not only does channel three prove to be by far the dirtiest of the triumvirate, it also has an additional gain stage that can be switched in via the front panel, although sadly not with the optional FS44M footswitch.
"It's the completely filthy dirty channel," says Vai. "I use the second channel as my main rhythm sound and then I'll kick in a distortion pedal, but that means more electronics and it's hard to find a good one that doesn't take away the top end and lighten up the bottom. So the third channel is designed to kick in for those really intense kinds of overdrives."
One feature Vai is especially keen on is the master section, which includes a volume, boost function and reverb control.
"I wanted a master volume that changes the level without changing the tone," he explains. "You've got it to sound the way you like, and then you gotta turn it down because you're tooloud and you lose all your mojo. With the Legacy 3, you can get your sound, then bring it up and down."
The boost function, which at its maximum setting adds a relatively subtle 6dB to the signal, can be selected with the footswitch. It's an easy method of upping the signal on demand, but you do need to turn it back off manually when changing channels because it's not automatically bypassed.
The internal lightshow, the hue of which changes with each channel selection, looks great, and it can be altered or even bypassed if you wish. In addition, there's an inexpensive chassis custom colour option – "the colour for me this year is Seafoam Green," jokes Vai.
There are a number of cabinet options available too, and of course there's no real need to use a Carvin cab at all if you don't want to. But we began our sound tests using the bespoke CT212S, an angled 2 x 12 loaded with Celestion Vintage 30s that stands vertically.
Sounds
As this is a Vai signature head, we reached for our battered Ibanez Blue Floral JEM and, before concentrating on each channel in turn, we had a quick flick around the three to get our bearings.
With channels two and three, we were struck by the rather muffled nature of the initial drive tones. However, this led to the discovery that the EQ section is among the most responsive we can remember playing with, especially on an out-and-out rock amp.
The trick is to balance the shared bass, middle and treble of the two hotter channels to obtain sounds you wish to use, and then use the independent presence controls to fine-tune. To give an idea of just how sensitive it is, turning channel two's presence knob from six to just under seven adds almost too much rasp, and although the process of dialling-in and balancing tones is an involved one, it must be remembered that this is a wholly pro amp.
Channel two is where the lion's share of suitable rhythm rock tones reside and, with the drive set to just over five, there is sufficient gain to enable us to rock out without sacrificing Vai's characteristic tonal clarity and string separation. The drive compresses markedly around seven, so keeping the setting below that helps to keep the tone transparent.
With identical control settings, channel three is slightly thicker and smoother. The balancing act here is to marry drive settings with crisp presence and the additional gain switch, which heaps drive upon drive to really extend musical sustain.
The footswitchable boost function adds up to 6dB of signal hike and is a gradual rather than immediate effect, which easily allows lead parts or licks to stand out across the whole amp. One downside is that, if you have the boost switched on and then go to another channel, the boost remains, requiring you to turn it off manually. As we've said many times before of course, MIDI switching is your friend in solving this inconvenience.
Clean channel three is gorgeous, mixing a Fender-style chime and brightness with a fatter, juicier low-end. The reverb, which is equally impressive, can be assigned to any and all channels and makes clean sections sing, whether using single-coils or mid-powered humbuckers.
The three power options give yet more tonal options, not least for recording, and the usual guidelines apply: 50 watts gives fatter gains at lower volumes, while the full 100 offers the best headroom for clean tones.
Other guitars used during our tests included the Gibson Les Paul Standard and Fender American Standard Strat, as well as a Charvel San Dimas and an EMG-loaded ESP, and each required a given level of EQ tweaks to tick the necessary boxes. However, none sounded as Vai-authentic as the JEM and, if nothing else, the fact that we can get sounds that are anywhere close to those of Mr Vai says a great deal about how sonically impressive the Legacy 3 is.
Don't be fooled by its size. Unlike similarly tonesome units such as the Orange Tiny Terror, H&K TubeMeister and Hayden MoFo, this is a full-powered, hand-wired, 100-watt amp and represents what we think is excellent value at just over a grand.
The Vai connotations notwithstanding, it's packed with great tones, not least those of the magnificent clean channel. From those sparkling yet rounded Fender-style chimes to all out high-gain mayhem, this is a versatile and very special amp. The audience is glistening…
MusicRadar Rating
5 / 5 stars
Pros
Great tones; lovely clean channel; portable; LEDs.
Cons
The assumption that you'll also need a specific guitar. We don't think that you do.
Verdict
Finally, a high-powered, all-valve amp that comes in a more than portable package.
( www.musicradar.com – Simon Bradley )
Stream a new track from Steve Vai's upcoming new album, The Story of Light.
Just days after announcing plans to release his sixteenth solo album, The Story of Light, late this summer, Steve Vai is already giving fans a taste of new music with a track called "Gravity Storm." Stream it below.
The Story of Light centers around a character who has been driven mad by grief, and will continue a thematic arc that that started Vai's 2005 effort, Real Illusions: Reflections.
"I'm always pursuing knowledge, I'm a seeker of spiritual equilibrium-and music is a big part of that," said Vai in an official press release. "I've been obsessed with these kinds of ideas for years."
The Story of Light is out on August 14 via Favored Nations.
Available for pre-order on
http://www.vai.com
Steve Vai – "Gravity Storm" Preview from his upcoming solo album "The Story of Light"
AMSTERDAM – Gitaarhelden bestaan nog wel degelijk en ze verzamelden zich op vrijdagavond in de Heineken Music Hall om de liefhebber te trakteren op een avond vol instrumentaal geweld.
G3 is het geesteskind van gitaarvirtuoos Joe Satriani, waarbij hij zich op tournee vergezelt met twee andere niet onaardig spelende gitaristen. Het is een ritueel wat vaak voorbij komt in de Verenigde Staten, maar in mindere mate in Europa.
Nu werd het dus weer eens tijd voor dat continent. G3 toert het hele jaar door met verschillende line-ups door de hele wereld, met uitzondering van de Verenigde Staten. De start van de Europese tournee was in Amsterdam, waar de Heineken Music Hall zich vulde met echte gitaarfreaks.
Het lijkt bijna een gegeven dat Steve Vai altijd meegaat en dat is nu niet anders. Degene die zich nieuweling mag noemen is Steve Morse, nota bene een gitarist die al naam aan het maken was toen die andere twee nog op hun kamertjes aan het oefenen waren.
Iedereen krijgt keurig vijftig minuten speeltijd en het programma wordt heel netjes gevolgd. Al die gitaarnoten precies in zo'n tijdsbestek krijgen is al een prestatie op zich.
Steve Morse
Morse mag het gitaarfestijn openen. De van Deep Purple bekende gitarist heeft een immense discografie op zijn naam, onder meer als solo-artiest onder de naam Steve Morse Band.  Slechts één keer wordt er geklapt bij de inzet van een nummer, wat de onbekendheid van zijn solo-uitstapjes duidelijk maakt.
Maar de set was wel zeer onderhoudend en erg gevarieerd, waarbij het naast scheurende rock niet gek is om country, funk, akoustisch, of klassiek voorbij te horen komen. Het zuivere gitaarspel maakte het optreden af. Een muzikaal en visueel rustige openingsact, maar vooral interessant om Morse eens zonder zijn bekende bandmaten te horen.
Steve Vai
Vai treedt voor het eerst sinds tijden weer eens aan zonder poespas. De laatste jaren werd hij voornamelijk vergezeld door klassieke instrumentalisten, dit keer krijgt het publiek een ouderwetse rockshow voorgeschoteld. De routineuze set, met onder meer Animal en Tender Surrender, is hem daarbij vergeven. Wel heeft Amsterdam de primeur van een nieuw nummer: een stampende 'classic' Vai-track.
Als gitaarspeler blijft Vai op eenzame hoogte staan, maar zijn fysieke fratsen blijven dit keer op een minimum. Dan nog blijft het gemak waarmee hij met zijn ledematen over het fretbord vliegt ongelofelijk om te zien. Het spelplezier maakt dat zijn optreden ook voor de meest negatieve zuurpruim te genieten valt. Wel een minpunt: publieksfavoriet en ballade For the Love of God diende als afsluiter, maar een steviger slot was wenselijker geweest.
Joe Satriani
Satriani dient zich al vrij snel aan na een korte ombouwpauze en is meteen de enige gitarist die moeite doet het publiek op te zwepen. Dat lukt meteen. De handen gaan collectief de lucht in en de gespeelde gitaarmelodieën worden meegezongen.
Ook deze set staat vol met gouwe ouwen, met hooguit het nieuwere Dream Some als verrassing. Maar Satch Boogie en Flying in a Blue Dream kunnen natuurlijk niet ontbreken. Het lijkt logisch dat zulke songs na al die jaren vlekkeloos gespeeld worden, maar het moet toch maar elke keer weer waar gemaakt worden én met enthousiasme. Dat doet Satriani dan ook deze avond.
Jam
Voor de toegift kwamen Morse en Vai het podium opstappen om traditioneel een drietal covers te spelen. Dit dient vooral als excuus om onderling de meest virtuoze solo's uit te wisselen. Voor het eerst in de G3-geschiedenis werd You Really Got Me van The Kinks gespeeld.
Morse staat er een beetje bij, want Satriani en Vai zijn samen inmiddels een geoliede machine. Kwestie van gewenning tijdens zo'n eerste show natuurlijk, en zijn gitaarspel sloot wel keurig aan. Middels White Room van Cream en Neal Young's Rockin' in a Free World kwam er een einde aan het gitaargeweld.
Door: NU.nl/René Hartkamp
Richard Hugh "Ritchie" Blackmore (born 14 April 1945 in Weston-super-Mare, England) is an English guitarist, who was a founding member of hard rock bands Deep Purple and Rainbow. He left Deep Purple in 1993 due to a growing rift between Blackmore and other members in spite of renewed commercial success. His current band is the Renaissance influenced Blackmore's Night.
Blackmore was ranked #55 in Rolling Stone magazine list of the "100 Greatest Guitarists of All Time".
Childhood and early life
Blackmore was born in Weston-super-Mare, England, but moved to Heston, Middlesex at the age of two. He was 11 when he got his first guitar. His father bought it for him on certain conditions: "He said if I was going to play this thing, he was either going to have someone teach it to me properly, or he was going to smash me across the head with it. So I actually took the lessons for a year ? classical lessons – and it got me on to the right footing, using all the fingers and the right strokes of the plectrum and the nonsense that goes with it." Whilst at school he did well at sports including the Javelin. Blackmore left school at age 15 and started work as an apprentice radio mechanic at nearby Heathrow Airport. He was given guitar lessons by Big Jim Sullivan.
He was influenced in his youth by early rockers like Hank Marvin and Gene Vincent, and later, country pickers like Chet Atkins. His playing improved and in the early 1960s he started out as a session player for Joe Meek's music productions and performed in several bands. He was a member of the instrumental combo, The Outlaws, and backed Heinz (playing on his top ten hit "Just Like Eddie"), Screaming Lord Sutch, Glenda Collins and Boz among others. While working for Joe Meek, he got to know engineer Derek Lawrence, who would later produce Deep Purple's first three albums. With organist Jon Lord he co-founded hard rock group Deep Purple in 1968, and continued to be a member of Deep Purple from 1968-1975 and again from 1984-1993.
Recording career
(1968-1975) The first Deep Purple years
Blackmore co-founded the hard rock group Roundabout with Wayne Blade in 1968 with Chris Curtis (vocals), Dave Curtis (bass), Jon Lord (keyboards), and Bobby Woodman aka Bobbie Clarke (drums). Later on the name was changed to Deep Purple and vocal, bass and drums were changed to Rod Evans (vocals), Nick Simper (bass) and Ian Paice (drums). It was Blackmore's idea to call the band Deep Purple, after his grandmother's favorite song. The band had a hit US single with its remake of the Joe South song "Hush". After three albums Evans and Simper were replaced by Ian Gillan (vocals) and Roger Glover (bass).
The second line-up's first studio album, In Rock, changed the band's style, turning it in a hard rock direction. Blackmore's guitar riffs, Jon Lord's distorted Hammond organ, and Ian Paice's jazz-influenced drums were enhanced by the vocals of Ian Gillan, who Blackmore has described as being "a screamer with depth and a blues feel."
The next release was titled Fireball and continued in the same hard rock style established on the previous release, with Blackmore's guitar remaining a prominent feature of the band's style.
Deep Purple's next album was titled Machine Head. The band originally intended to record the album at a casino in Montreux, but the night before recording was to begin the casino hosted a Frank Zappa concert (with members of Deep Purple in attendance) at which an audience member fired a flare gun which ignited a fire inside the building and the casino burned down. The entire tragedy is documented in the lyrics of what was to become Deep Purple's historic anthem "Smoke on the Water".
In 1973, shortly after the release of the album Who Do We Think We Are, Ian Gillan and Roger Glover left Deep Purple.
They were replaced by former Trapeze bassist Glenn Hughes and an unknown singer named David Coverdale. The album recorded by the new line-up was entitled Burn.
Deep Purple continued to perform concerts worldwide, including an appearance at the 1974 'California Jam', a televised concert festival that also included many other prominent bands. At the moment Deep Purple were due to appear, Blackmore locked himself in his dressing room and refused to go onstage. Previous performers had finished early, and it was still not sundown, the time at which the band had originally been scheduled to start. Blackmore felt this would dull the effect of the band's light show. After ABC brought in a sheriff to arrest him, Blackmore agreed to perform. At the culmination of the performance he destroyed several of his guitars and threw one of his amplifier stacks off the edge of the stage. He also struck one of the ABC cameras with a guitar, and in recorded footage can be seen arranging for his road crew to set off a pyrotechnic device in one of his amplifiers, creating a large fireball that was quickly extinguished. The band quickly exited the venue by helicopter, avoiding fire marshals, police officers and ABC executives.
Deep Purple's next album, Stormbringer, was publicly denounced by Blackmore himself, who disliked the funky soul influences that Hughes and Coverdale injected into the band. Following its release, he departed Deep Purple to front a new group, Rainbow, which was originally thought to be a one-off collaboration by Blackmore and the Ronnie James Dio-fronted band Elf, but was later revealed to be a new band project.
(1975-1984) The first Rainbow years
Blackmore, right, with Rainbow in 1977
After Deep Purple, Blackmore formed the hard rock band Rainbow. The name of the band Rainbow was inspired by a Hollywood bar and grill called the Rainbow that catered to rock stars, groupies and rock enthusiasts. It was here that Blackmore spent his off time from Deep Purple and met vocalist Ronnie James Dio, whose band Elf had toured regularly as an opening act for Deep Purple.
The band's debut album, Ritchie Blackmore's Rainbow, was released in 1975. The band's musical style differed from Blackmore's previous band and much of Blackmore's inspiration came from his love of classical music which matched nicely with Dio's lyrics about medieval themes.
Blackmore fired every original band member except Dio shortly after the first album was recorded, and recruited a new lineup to record the album Rainbow Rising.
For the next album, Long Live Rock 'n' Roll, Blackmore kept the drummer Cozy Powell and Dio but replaced the rest of the band. Blackmore had difficulty finding a bass player for this record so he handled all the bass duties himself, except on three songs: "Gates of Babylon", "Kill the King", and "Sensitive To Light" (the bass on these songs was performed by Bob Daisley.) After the album's release and supporting tour, Ronnie James Dio left Rainbow due to "creative differences" with Blackmore.
Blackmore continued with Rainbow and the band released a new album entitled Down To Earth, which featured his ex-Deep Purple bandmate Roger Glover on bass. The album contained Blackmore's first chart successes since leaving Deep Purple, as the Graham Bonnet-fronted single "Since You Been Gone" (a cover of the Russ Ballard penned tune) became a smash hit. In 1980 Blackmore's Rainbow headlined the inaugural Monsters of Rock festival at Castle Donington in England. Bonnet and Cozy Powell would leave after this, Powell would go on to join former Deep Purple members in Whitesnake.
The band's next album, Difficult to Cure, introduced vocalist Joe Lynn Turner. The title track from this album was an arrangement of Beethoven's Ninth Symphony, a personal favourite of Blackmore's.
Rainbow's next studio album was Straight Between the Eyes and included the hit single "Stone Cold." It would be followed by the album Bent Out of Shape, which featured the single "Street Of Dreams". The song's video was banned by MTV for its supposedly controversial hypnotic video clip. The resulting tour saw Rainbow return to the UK and also to Japan where the band performed with a full orchestra.
By the mid-1980s, Blackmore and his former Deep Purple bandmates had reconciled past differences and a reunion of the successful "Mark II" lineup took place. A final Rainbow album, Finyl Vinyl, was patched together from live tracks and "b" sides of singles.
(1984-1993) The second Deep Purple years
In April 1984, it was announced on BBC Radio's Friday Rock Show that the "Mark Two" line-up of Blackmore, Gillan, Glover, Lord, and Paice was reforming and recording new material. The band signed a deal with Polydor in Europe and Mercury in North America. The album Perfect Strangers was released in October 1984. A tour followed, starting in Perth, Australia and wound its way across the world and into Europe by the following summer. It was the highest-grossing group tour of the year. The UK homecoming proved mixed as they elected to play just one festival, 'The Return of the Knebworth Fayre', at Knebworth Park on 22 June, 1985. Despite poor weather conditions, an audience of 80,000 attended the show that also featured Scorpions, Mama's Boys and Meat Loaf amongst others. BBC Radio One broadcasted the set.
In 1987, the line-up recorded and toured in support of the album, The House of Blue Light. A live album, Nobody's Perfect was released in 1988. A new version of "Hush" (sung by Gillan, who had not yet joined the band when the original recording was made), was also released to mark the band's twentieth anniversary. In 1989, Ian Gillan was fired from the band because of a poor working relationship with Blackmore. His replacement was former Rainbow vocalist Joe Lynn Turner. This lineup recorded one album titled Slaves & Masters (1990). Though the album was a favorite of Blackmore's, his bandmates were disappointed with the efforts of the album and tours.
Neither the album nor the tour were critically or commercially successful. Following its conclusion, Turner was fired from the band. Both Jon Lord and Ian Paice argued that Deep Purple needed Ian Gillan as the band's frontman. Blackmore relented and Gillan returned prior to recording The Battle Rages On in 1993. During the support tour in late 1993, tensions between Gillan and Blackmore reached a climax and Blackmore left the band permanently. His last show with the band was in Helsinki, Finland on 17 November, 1993.
Gillan said: "Joe Satriani came in at the last minute. Blackmore walked out and the tour was taking off to Japan… it was all very dramatic. He said: 'Alright, that's the end of the band,' and assumed because he left that we were going to fold up." Satriani was asked to join full time but had to decline as he was tied into a long recording contract. A permanent replacement for Blackmore was eventually found in another guitar legend, Steve Morse of Dixie Dregs, who joined the band in 1994.
Ian Gillan, who had been Ritchie Blackmore's roommate during the early days of the band, stated in a 2006 interview that Blackmore had "turned into a weird guy and the day he walked out of the tour was the day the clouds disappeared and the day the sunshine came out and we haven't looked back since." Gillan noted that after Blackmore "walked out, things picked up and recovered unbelievably, remarkably well and the band's in great shape now". He added that "there are certain personal issues that I have with Ritchie, which means that I will never speak to him again. Nothing I'm going to discuss publicly, but deeply personal stuff."
(1993-1997) The second Rainbow years
Ritchie Blackmore reformed Rainbow after leaving Deep Purple a second time in 1993. This Rainbow line up with singer Doogie White lasted until 1997 and produced the album Stranger in Us All. In the years Rainbow was together, Blackmore was the only consistent member. Stranger In Us All failed to measure up to the critical and commercial acclaim of previous releases, possibly due to the popularity of grunge rock at the time and the fact it was not particularly well publicised. In 1996, he appeared on the tribute album to Hank Marvin and The Shadows "Twang" on Sting's Pangea label with a rendition of Gerry Lordan's Apache.
(1997-present) The Blackmore's Night years
Ritchie performing with Candice Night
In 1997, Blackmore and his (now) wife Candice Night formed the Renaissance-inspired pop group Blackmore's Night. They have also performed the music for MagiQuest, a live simulation game located in Myrtle Beach, SC. Their debut album Shadow of the Moon (1997) went gold in Japan and enjoyed some success in Europe. In subsequent albums, particularly Fires at Midnight (2001), there was an increased incorporation of rock guitar into the music, whilst maintaining a folk rock direction.
Musical style
With Deep Purple and Rainbow, Blackmore almost exclusively played a Fender Stratocaster. He is also one of the first rock guitarists to use a "scalloped" fretboard where the wood is shaved down between the frets.
One of Blackmore's best-known guitar riffs is from the song "Smoke on the Water". He plays the riff without a pick, using two fingers to pluck the D and G strings in fourths.
In his soloing, Blackmore combines blues scales and phrases with minor scales and ideas from European classical music. While playing he would often put the pick in his mouth to play with his fingers.
He has two guitar solos ranked on Guitar World magazine's "Top 100 Greatest Guitar Solos" ("Highway Star" at #19 and "Lazy" at #74, both from the album Machine Head).
Equipment
During the 1960s Blackmore played a Gibson ES-335 but switched to a Fender Stratocaster after buying a second hand Stratocaster from Eric Clapton's roadie. However, the guitar was deemed unplayable by Blackmore due to the fact that the intonation was too off to be fixed. Since then and right up until his Blackmore's Night project Blackmore has used Stratocasters almost exclusively. The middle pickup is screwed down and not used, with only the bass and treble pickup selector set. Blackmore has also occasionally used a Fender Telecaster Thinline during recording sessions.
In the 70s, Blackmore used a number of different Stratocasters. However, around the time of the Long Live Rock 'n' Roll album, Blackmore found one particular Strat that was his main guitar up until Blackmore's Night. Like most of Blackmore's guitars, this Strat had its fingerboard scalloped. The pickups in it have been changed quite a few times, as described below. Blackmore added a strap lock to the headstock of this guitar as a conversation piece.
His amplifers were originally 200W Marshall Major stacks which were modified by Marshall with an additional output stage (generated approximately 278W) to make them sound more like Blackmore's favourite Vox AC-30 amp, cranked to full volume. Since 1994 he has used Engl valve amps. One of the reasons he cited was that the Marshall heads did not sound as good as the Engls at low volume.
Blackmore frequently used effects during his time with Deep Purple and Rainbow, (despite claims to the opposite). He used a Hornby Skewes Treble Booster in the early days. Around the time of the Burn sessions he experimented with an EMS Synthi Hi Fli guitar synthesizer. He would sometimes use a wah-wah pedal and a variable control treble-booster for sustain. Moog Taurus bass pedals were used during solo parts of concerts. He also had a modified Aiwa TP-1011 tape machine built to supply echo and delay effects. The tape deck was also used as a pre-amp. Other effects that Blackmore used were a Schulte Compact Phasing A, a Unicord Univibe, a Dallas Arbiter Fuzz Face and an Octave Divider. In the mid 80s he also experimented with Roland guitar synths. A Roland GR-700 was seen on stage as late as 1995-96, later replaced with the GR-50. Guitar synths are also used quite a bit in Blackmore's Night. As an example, Blackmore plays with a slide over what is probably an organ patch in the beginning of Way to Mandalay.
His strings used during his tenures with Deep Purple and Rainbow were Picato brand (.010, .011, .014, .026, .038, .048) Blackmore has experimented with many different pickups in his Strats. In the early Rainbow era they were still stock Fenders, later Dawk installed overwound, dipped, Fender pickups. He has also used Schecter F-500-Ts, Velvet Hammer "Red Rhodes", DiMarzio "HS-2″, OBL "Black Label", Bill Lawrence L-450, XL-250 (bridge), L-250 (neck). He used Seymour Duncan Quarter Pound Flat SSL-4 for several years and since the late 80s he has used Lace Sensor (Gold) "noiseless" pickups. Blackmore's gear was modified by John "Dawk" Stillwell of Dawk Sound Limited Dawk modified his Marshall Majors as well as his Fender Stratocasters. Dawk designed the Master Tone Circuit that was installed in all the guitarist's guitars. Dawk worked for Elf with Ronnie James Dio when Elf toured with Deep Purple.
Plagiarism claim
Nick Simper, the bassist with DP Mk I, claims that he showed Ritchie Blackmore the riff from Ricky Nelson's "Summertime" and that it was the basis for the first Mk II Deep Purple single "Black Night." Roger Glover agrees in an interview with Rumba Magazine, November 1993 and says that he (Glover) insisted that they write new words and put it out as the single the record company wanted them to make. In mitigation he claims that they were all drunk. Nick Simper also identifies It's a Beautiful Day's Bombay Calling as a tune "which Mark II borrowed, and turned it into Child in Time"; Ian Gillan confirmed this in several interviews. It's a Beautiful Day in return borrowed Purple's "Wring that Neck" and turned it into "Don And Dewey" on their album Marrying Maiden. Blackmore also confirmed some of these claims in a Japanese TV interview.
Personal life
Blackmore has a son, Jurgen R. Blackmore (b. 1964), from his first marriage to a German woman named Margrit. Their marriage ended in 1969. He married another German woman, named B?rbel Hardie in September 1969. His third marriage, in May 1981, to Amy Rothman, ended after divorce in 1987 (they separated in 1983). He and bandmate Candice Night have been living together since 1991 (they first met in 1989). The couple currently resides in Mount Sinai, Long Island, New York, USA. On Oct. 5, 2008, Ritchie Blackmore and Candice Night married at the Castle on the Hudson. According to Ian Gillan, Blackmore is known to be a very difficult person. Gillan states, "He's very difficult, he wants everything done his own way, he won't listen to anyone else, and he doesn't want anyone else to make any contributions to the music, as well as canceling tours at the last minute." Ian Paice has also described him as being difficult, and Jon Lord has commented that he can be childish.
(Bron: http://www.lyricsfreak.com)
"I really like my old Marshall tube amps, because when they're working properly (i.e., when the volume is turned up all the way), there's nothing can beat them, nothing in the whole world. It looks like two refrigerators hooked together….."
James Marshall Hendrix – Los Angeles, California (1967)
Jim Marshall, circa 2000While it's hard for most of us to imagine now, there once was a time when rock and roll and all of its associated trappings simply didn't exist. Dance bands and "Big Bands" were the rage along with wholesome family entertainment and cabaret shows. Black and white television was still a big deal and to stay out after the pubs had closed was almost bohemian. Now we've got colour television, MTV, birth control, jets, divorce, mortgages, two car families.
And rock and roll.
There are probably many people who have played a part in both of these eras, but surely few so significantly as Jim Marshall. It has always amazed me how such a quiet and unassuming man as Jim should become involved in a wild and frenzied business like rock, let alone to have contributed to such a violent assault on music lovers' ears with the invention of the "stack". But he has never led what you could call an ordinary life. He was born in Kensington on the 29th of July, 1923 to Mrs. Beatrice Marshall and her husband Jim. Unfortunately, he suffered from tuberculosis of the bones which meant that he was in plaster cast from his ankles up to his armpits during most of his school years.
He managed just eight weeks at school before leaving at the age of thirteen and a half to start a variety of jobs. His father owned a fish and chip shop in Western Road, Southall, but it wasn't for Jim, so he started drifting around and found work as and where he could. He worked in a scrap metal yard, a builder's merchant, as a baker in a biscuit factory, a "boiler" in a jam factory, a salesman in a shoe shop and as a meat slicer for a canned food group where he sliced off the top of his thumb!
Yet all this time he seemed to have a thirst for knowledge and had started reading books on engineering. Due to his illness he failed his medical for the Forces, so he went to work at Cramic Engineering throughout the Second World War and then he put his new found engineering expertise to good use by working at Heston Aircraft in Middlesex as a toolmaker from 1946 to 1949. However, at the age of 14 he had learned how to tap dance and music was already very much at the forefront of his mind.
"I went to tap dancing lessons and a Band Leader who's grand daughter was in the same class as me heard me sing, he said he was playing locally at the Monapole, this was the largest dance hall in Southall. He asked me to come along and he would try me out. He thought that I sounded fine with just a pianist but may not be all right with a 16 piece orchestra. It turned out fine and from then on I was singing 5 or 6 times a week.
"I was making 10 shillings a night and because it was wartime, we didn't have any petrol for cars, so I would ride my bicycle with a trailer behind it to carry my drum kit and the PA cabinets which I had made! I then left the orchestra to be with a 7 piece band and in 1942 the drummer leader was called into the forces and I took over on drums."
Realising that he wanted to be more proficient at drumming, he started taking drum lessons from Max Abrams in 1946 in Knightsbridge every Sunday, trying to emulate the style of his idol, Gene Krupa.
"At the end of two years, I became quite efficient on drums", so in 1949 Jim started teaching other drummers in Lonsdale Road, Southall. "I taught Mitch Mitchell who joined Jimi Hendrix, Micky Burt of Chas and Dave, Micky Waller with Little Richard and Micky Underwood who played with Ritchie Blackmore. I used to teach about 65 pupils a week and what with playing as well, I was earning in the early 1950′s somewhere in the region of £5,000 a year, which was how I first saved money to go into business."
"In 1960 I started building bass and PA cabinets in my garage because nothing was really made as a column speaker, and I had the idea of using two 12″ speakers. Also, there was nothing produced whatsoever in those days for bass guitar. The bass guitarists used to complain that they were being out-gunned all the time by the lead guitar and they asked me for help. So I started building bass cabinets. They usually used a single 18″ speaker in a very small enclosure completely packed with sawdust and wood shavings. The back of the speaker cone was covered with a canvas back to prevent wood shavings from getting inside, and later used a 25 watt Leak amp as the power."
The sales sheet described them as the "Custom-Line Range" of amplification and were available in 12″, 15″ or 18″ enclosures with Goodmans speakers and they looked strikingly similar to the "Selmers" of the time. Initially they were offered with "Linear" amplifiers, then "Leaks", and production lasted for about a year. The catalogue announced that the cabinets were endorsed by "The Fabulous Flee-rekkers" and "The Sensational Flintstones"! It is perhaps no coincidence that Jim's son Terry played saxophone with the "Flee-rekkers" and Rod Freeman, who was a salesman at Jim's shop, played guitar and sang with the "Flintstones".
"Having taught so many drummers, I used to buy Premier drums from the Selmer shop in Charing Cross Road and sell them to my students. The manager said that it was rather silly spending all this money there so why didn't I open up my own drum shop? That's how I started in retail. Then the drummers brought their groups in, including Pete Townshend, and said why don't you stock guitars and amplifiers, which I knew nothing about. This would have been July, 1960.
"So I took the groups advice and they said they wanted Fender and Gibson. They were usually Fender Stratocaster guitars and Tremolux amps as well as quite a few Gibson semi-acoustics such as the 335. It was what they wanted and Ben Davis, who was the boss of Selmer at the time who imported most of the top models, was worried about how much I was buying, but I had already sold what was ordered. I then started stocking them in depth, as a result of which the West End dealers gave me 6 months to last.
"Ken Bran used to come into the shop with his band 'Peppy and the New York Twisters'. At that time I think Ken was eager to stop travelling with the band and he said that if ever you want a service engineer don't forget me. About a year later, after he'd worked with Pan Am, he came to work for me in 1962.
"It was Ken who said to me that it was rather silly to keep on buying in amplifiers when we could probably produce our own. So I told Ken to produce something and let me listen to it. We went all out to build a lead amp; I made the chassis while Ken and a bright young engineer called Dudley Craven designed and built the circuitry. I had already had chats with Pete Townshend, Brian Poole and the Tremoloes and Jim Sullivan and they said that they wanted something different in the sound because Fender was too clean, and listening to what they said imparted in my mind the idea of the sound they wanted.
"Obviously, we looked at the Fender amps because they were my favourite amplifier and the Bassman seemed to be nearer the sound that people were talking about, rather than their lead amplifier. So we were influenced by it, but after all, there is nothing new in valve technology; it's all been done before."
So the first prototype was built in September of 1962 and was a bare chassis without a cabinet to allow modifications to be made more easily. The first 4×12 followed shortly thereafter.
"We tried a 2×12 with the 50 watt lead but it didn't give us the sound we wanted or the projection that was required; we kept blowing the speakers. Then we had the idea of putting four 12″ speakers into the smallest enclosure we could. There was nothing brilliant about designing the first 4×12, it was purely the most convenient size to get into the transport that groups had in those days. I thought that it didn't look very nice with just the amp sitting on top, so I did the angle to match the dimensions of the amplifier and make it look a neater package. We were really proud when we finished it."
Many orders were taken from that first prototype and Jim recognised that he was into something. By 1963 he had expanded the shop to include a small manufacturing area where Ken and his assistant Dudley built the first amplifiers at the rate of about one a week. As demand increased, the cabinet manufacturing was moved to another shop across the street and then into a 20 x 30 ft workshop in Southall, Middlesex.
By 1964 Jim had to expand again and the first proper Marshall factory opened in Hayes with 6000 sq. ft. and 16 people making 20 amplifiers a week.
Marshalls were only available to customers at first from his own shop in Hanwell then, as word spread, Jim offered them to other retailers in the South of England while his friend Johnny Jones of "Jones and Crossland" in Birmingham Distributed them in the north of England from late '63. This arrangement continued for about 18 months until 1965 when Jim signed an exclusive Worldwide distribution agreement with Rose-Morris that was to last for about 15 years. Consequently, Johnny lost the rights to distribute Marshall so Jim introduced the "Park" line of amplifiers for Johnny to distribute as a favour.
It was now 1965. Britain was revelling in the hysteria of the "Beat Boom", America was succumbing to the "British Invasion"……. and Pete Townshend needed a bigger amp. Jim put Ken to work on the prototype 100 watt head.
"Jimi said that he wanted to use Marshall gear and that he was also going to be one of the top people in the world at this type of music. I thought he was just another one trying to get something for nothing, but in the next breath he said that he wanted to pay for everything he got. I thought he was a great character, I got on very well with him and he was our greatest ambassador. I saw him play about three times, and I saw him at the first sort of major concert which was at Olympia with Jimi Hendrix, The Move and Pink Floyd. I was very impressed by him as a musician; it was something new to me. I also went out with Ken and saw bands like The Who and Cream".
From 1966 onwards Marshall enjoyed explosive growth and consolidated their position as the Worlds premier rock guitar amplifier. During the Seventies the number of products offered mushroomed and Marshall found themselves in the forefront not only of guitar amplification but also of bass, PA cabinet and mixer designs, supplying mammoth systems for such bands as Deep Purple and Elton John.
By 1981 Jim decided to end his 15 year association with his distributor Rose-Morris and handle his own distribution. He had by this time drastically reduced the number of models available and concentrated on the newly introduced JCM800 series. It was tough at first not least of all because Britain was in he depths of a recession at the time, but they pulled through and in 1982 Marshall celebrated their 20th anniversary with a special run of white Marshall's.
In 1984 Marshall was awarded the "Queens Award for Export", an honour bestowed by the Queen in recognition of their outstanding export achievement over a three year period.
"That award meant a hell of a lot to me personally and to the company because we could use the Queens Award logo on our letterhead as well as in any advertising. It gave us prestige and as far as the employees were concerned was a source of pride."
In November 1985 Jim was invited to add his hand prints to the "Rock Walk Hall of Fame" in Hollywood along with Leo Fender, Robert Moog, Frank Martin III, Les Paul, Bill Ludwig, Remo Belli, Eddie Van Halen and Stevie Wonder. As Jim explained to the Los Angeles Times:
"At first I thought it was some kind of joke, but as I was putting my hand prints in I thought, 'Good God! I've really arrived!' On meeting Les Paul for the first time, as I did then, we hit it off straight away and he has a fantastic sense of humour. It was great. He's somebody I've looked up to for many years and I used to play his recordings. I admire anybody who has achieved what he had, especially when the man is such a nice man."
1987 marked the celebration of Jim's 50 years in music and 25 years in amplification, and was the catalyst for the introduction of the "Silver Jubilee" range of 50 and 100 Watt amplifiers, looking stunning in their chrome and silver vinyl and which became one of Jim's personal favourite models.
Marshall's long awaited JCM900 series were announced in 1990, universally referred to as "The amps that go to 20″, and of course this particular feature was inspired by Spinal Taps' Nigel Tufnel whose previous Marshalls only went to "11″! Jim appeared alongside Nigel in the hilarious promotional video called "Twenty", basically a short sequel to the legendary film "This is Spinal Tap" and which is now highly prized by musicians and film buffs alike.
Outside of the music industry, Jim had devoted an increasing amount of time to many charities, including the Variety Club and the London Federation of Boys' Clubs.
"I'd done well from nothing, all these kids around the World were buying Marshall, so I thought it was about time that I started to put something back in for handicapped and underprivileged children."
Jim Marshall, circa 2001 Most recently, Marshall have marked their 30th Anniversary in 1992 with two new products, the 30th Anniversary amplifier which was designed to be the ultimate valve head and the JMP1 midi preamp which is easily the most technologically advanced amplifier yet built by the company. To top it all, they have once again won the "Queens Award for Export".
In one of life's little ironies, Marshall has now been contracted to build the reissue of the Vox AC30 which started production in early 1993. Tom Jennings, who back in the '60′s had threatened to sue Marshall, must surely be rolling in his grave!
"The original AC30′s had that particular sound that I could appreciate, even through we were in competition right from the word go with Vox, but the company changed hands so many times that the amplifiers no longer sounded the way they used to. So we've recreated that sound."
When Jim considers where he will take his company from here, he remains quite philosophical:
"Over the next five years we will expand; I've just bought another factory. I would say that all we will endeavour to do is to try and improve on what we have done in the past, and I don't mean purely on the money angle. You can't take it with you, you can only live in one house and drive one car at a time. It's the name that means something to me – because it is my name."
Jim Marshall died Thursday, April 4, 2012 in a London hospice at age 88. Jim's legacy lives on.
Aloha, Jim. We miss you.
The Marshall Fridge
Marshall Amps just got a whole lot cooler!
Introducing the brand new Marshall Fridge!
The Marshall Fridge "Web Store" will be opening soon.
According to the site, they are busy preparing to take (what is likely to be) an onslaught of orders very soon at the special introductory price of $299.00 USD.
The estimated ship date for the product is October 01, 2012.
Visit the Marshall Fridge Web Site for more info and to get in line…
I gotta say, this is one of the COOLEST things I have EVER seen!
I am in line for mine!
-GuitarDaddy
Jarenlang heb ik het zelf ook gedaan. Voor honderden euro's een mooie versterkertop gekocht en een speakercabinet en dan die twee op elkaar aansluiten met een oud gitaarsnoertje dat eigenlijk te slecht was om te gebruiken om je gitaar aan te sluiten op je versterker.
Laatst stond ik met een 'kenner' te praten en die vertelde mij dat er een heleboel verschil zit tussen een gitaarkabel en een speakersnoer. Het belangrijkste verschil is dat er normaal gesproken een heleboel minder stroom door een gitaarkabel heen gaat dan door een speakersnoer en een gitaarsnoer hier dus ook helemaal niet op berekend is. Zoals je hierboven kunt zien heeft een gitaarkabel twee dunne draden waar al die stroom/signaal van je versterker doorheen geperst moet worden waardoor er heleboel signaalverlies ontstaat. Heb je een dure nieuwe set klinkt ie nog niet optimaal.
De blauwe kabel is een Dynacon Speaker Cable van Koch (± 40,- euro) en die heeft maar liefst twee keer drie draden voor de min en de plus. Twee van die de drie draden (van de min of de plus) hebben een vaste kern en één van die draden bestaat uit een draad die is opgebouwd uit verschillenden dunnere koperen draden waardoor de hogere frequenties worden vertraagd en de lagere frequenties iets minder gedefinieerd worden. Hierdoor ontstaat een speakerkabel die perfect is voor het overbrengen van het signaal van je versterker naar je speaker.
Ik heb het net hier zelf getest en het verschil is duidelijk hoorbaar. Dus morgen op je vrije dag even naar de muziekwinkel en een paar tientjes besteden aan iets wat je totaal niet kan zien alleen maar horen. Geloof me het is het waard.
Bron: MusicGear.nl
Laatst viel trok een artikel over een nieuwe versterkerreeks van Yamaha mijn aandacht. Het ging om de Yamaha THR5 en THR10. "Broodrooster!" was mijn eerste reactie. Maar dat beeld heb ik toch moeten bijstellen.
Yamaha heeft zijn nieuwe THR gitaarversterkers gepresenteerd met de slogan: THR "Your Third Amp". Yamaha ziet het namelijk zo, je eerste versterker is die enorme toren die je achter je hebt staan tijdens de uitverkochte concerten die je geeft (…), je tweede versterker is de versterker die eigenlijk een kleine versie is van dat monster waar je mee optreedt en de Yamaha THR5 of THR10 moet dan je derde versterker worden waar je op elke plek die je maar wilt mee gitaar kan spelen. Doordat de THR versterkers op stroom en batterijen werken is er dus geen plek meer, behalve onder water dan, waar je andere mensen niet lastig kunt vallen met je 'talent'.
De THR5 en THR10 lijken op elkaar en hebben beide hetzelfde vermogen namelijk 10W (5W + 5W) maar de THR10 is iets groter (36 x 18 x 14 cm i.p.v. 27 x 16,7 x 12 cm), iets zwaarder (2,8 kg i.p.v. 2.0 kg) en heeft iets meer knoppen en drie versterker types meer aan boord dan de THR5.
De Yamaha THR versterkers hebben een tuner aan boord, kun je doormiddel van een USB kabel aansluiten op je computer en de THR gebruiken om de muziek van iTunes en Youtube mee af te spelen en bovendien hebben ze een AUX ingang waar je een MP3 speler, telefoon of andere geluidsbron op kan aansluiten.
De THR versterkers kan je gebruiken als een audio interface en ook kan je doormiddel van de speciale THR Editor, die je gratis kan downloaden van download.yamaha.com, de versterker types en effecten editten.
Het allerleukste van de THR series vind ik het retro design en de 'Virtual Tube Illumination' waarmee je van de versterkers romantische slaapkamerlampjes kan maken.
De THR5 en THR10 worden beide geleverd met een gratis versie van Cubase AI en alle benodigde aansluitsnoertjes. Meer informatie over de THR serie kan je krijgen door de speciale THR pagina's op de Yamaha website te bezoeken of door het hilarische (kuch, kuch) filmpje hieronder te bekijken.
Wat: THR5 en THR10
Van: Yamaha
Prijs:  THR5 199,- euro / THR10 ± 299,- euro
Waar: (online)muziekwinkels
Website: yamaha.com
Bron: MusicGear.nl
It nearby 1 year that our musical friend, inspirator and great guitarist Gary Moore passed away at the age of 58 years.
So I made a cover of the song Spanish Guitar. Just listen and enjoy!